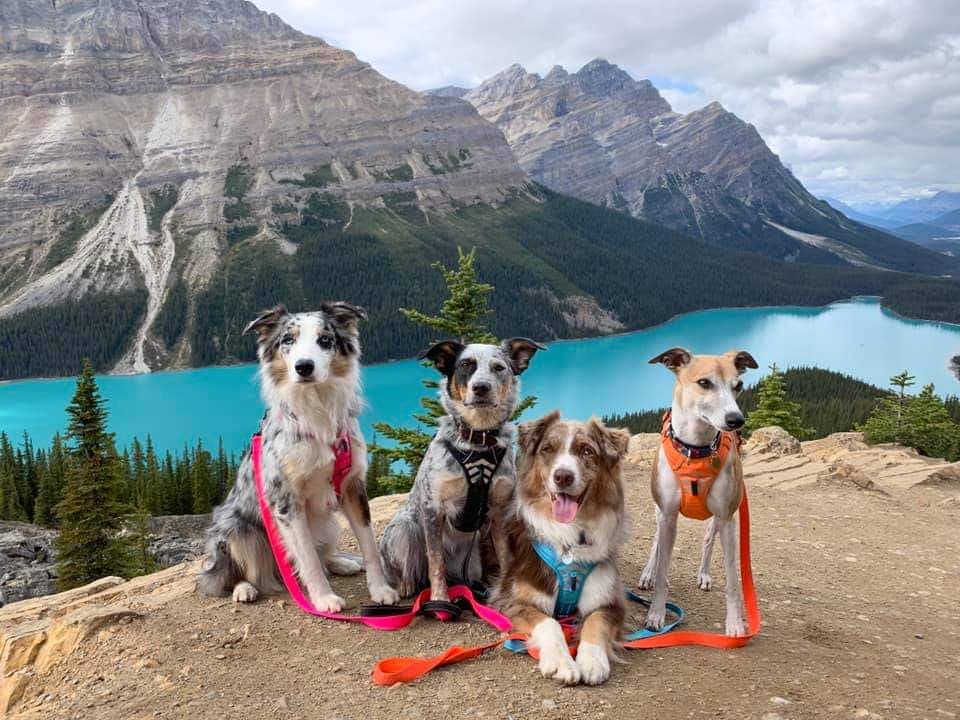 THE FLYING TEAM
ÉMILIE MÉNARD
For Émilie, the key to happiness is simple, it's dogs! Passionate about skill shows, dog training and of course, animals, she decided to enter the world of entertainment and dog training. A graduate in psychology and dog training, she offers courses and seminars on dog behavior and sports. Émilie dreams of having her team of artists to be able to offer canine skills shows around the world.
Like us, they love the outdoors, training and dog sports, so it made perfect sense for Le Chien Blanc to add Émilie & amp; The Flying Team. In addition, the team likes to be well equipped to fully enjoy their adventurous lifestyle!
Instagram.com/theflyingteam
THE FURRY BROS
ÉLOÏSE SCALZO-BISSONNETTE
«Canine educator by trade, I do not go a single day without the presence of dogs in my life. I'm the type of person who gets up in the morning looking for adventures to live with my dogs, and who really feels in my element when I find myself in the mountains with my two boys, Woody and Molson.
Woody is a one year old Labernois, very expressive and always playful. Despite this, he's never far from his mom! He loves to explore and is always keen to discover new places. Obviously, Woody knows how to pose for the camera and has a special talent for making himself charming.
Molson is a three year old Boston Terrier, a little ball of energy that never stops! When hiking, Molson is the kind of dog who doesn't follow the trails. Rather, it is found in branches, jumping over rocks and crossing streams. Adventurer by day and gluey by night, Molson would seriously do anything for a balloon, which makes him such a fun creature.»
Instagram.com/the.furry.bros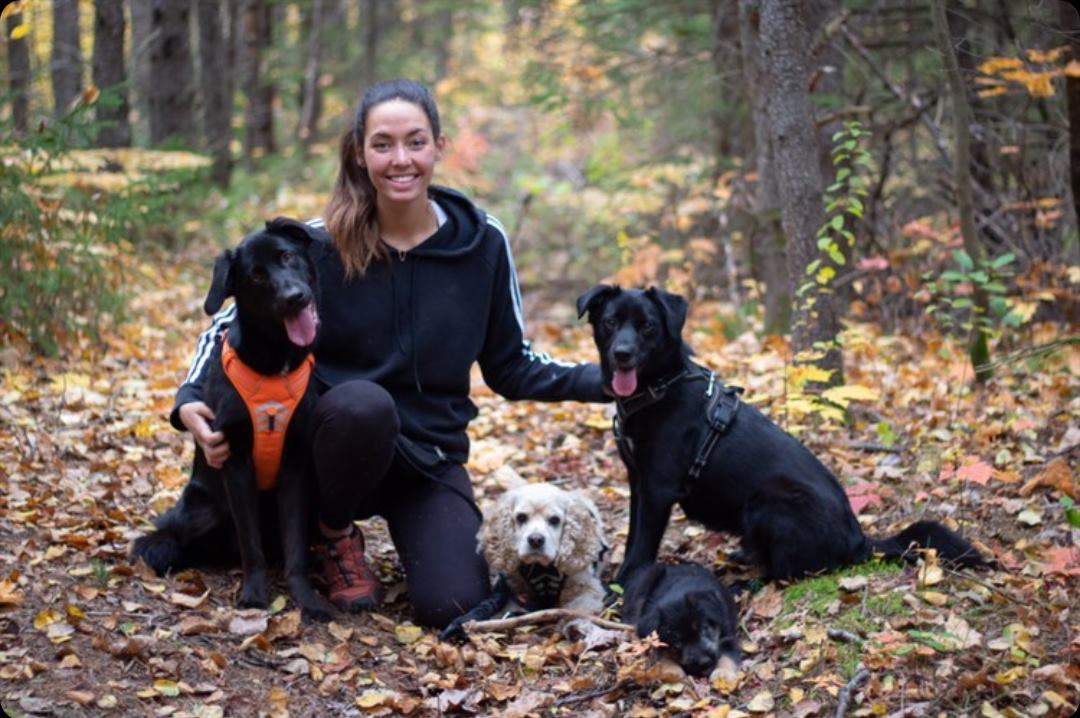 FLOPPY EARS TEAM
MAÉLY RICHARD
«Passionate about dogs from a young age, I have the chance to make my passion my job. I am an animal health technician as well as a canine behavior worker. Helping dogs in need makes me so happy, that in 2018 I joined the great family of the organization Puppies Nordiques. At the time, I was just Luna's human, my 9-year-old Cocker Spaniel. It was then that I met Grizzly, my very first Nordic Puppy. Eventually EV joined our family and our newest little Phlox has come full circle as our four-legged family. With my big family, we combine trips with the aim of discovering the nature that surrounds us. We also practice harnessed dog sports.»
instagram.com/maely_richard
DIEGO THE GALGO
NOÉMIE YELLE
«The history of the Galgos in Spain touched me from the first moment I met one. A student in Animal Health Techniques and working in a Canine Center for a few years, I have always enjoyed being surrounded by animals, especially dogs and helping them. Last summer, I met Diego a few days after arriving in Quebec, obviously without knowing that he would become my dog. I got him first, with a foster family and my heart couldn't bring himself to let him go.
He is an extraordinary dog, despite the heavy history of his Spanish counterparts. Like any self-respecting greyhound, Diego loves everything that involves running. So we spend our free time nurturing this passion, whether it's hiking in the forest, canicross or playing Frisbee, a sport he particularly enjoys.»
Instagram.com/diegothegalgo
ABBYANDTHECREW
JESSICA PELLETIER
DOGS.AND.MILES
STÉPHANIE LUSSIER
LMH.DOGS
LEIA MASSE HOULE